Navigating a Japanese subway station after an overnight flight that was delayed by a day! Tired, but excited for what God has in store. It seems like missions more than anything is that half-glazed over look as you are thrust into an unfamiliar situation (on top of a lack of sleep).
Archie made coffee and breakfast almost every morning (though I made some toast and eggs a time or two). While in Japan, the Aldersons enjoy a breakfast salad. Salad is a common breakfast staple in Japan.
The Aldersons have been my heroes for a long time. So to eat breakfast in Japan with them everyday was a dream come true.
Following the Aldersons around Japan was the honor of a lifetime.
Here we are on a train from Nagoya to Osaka. At every little stop that the train made, Archie told a story about a church started by them or someone they knew. Just unbelievable the work that has been done by the saints that have come before us.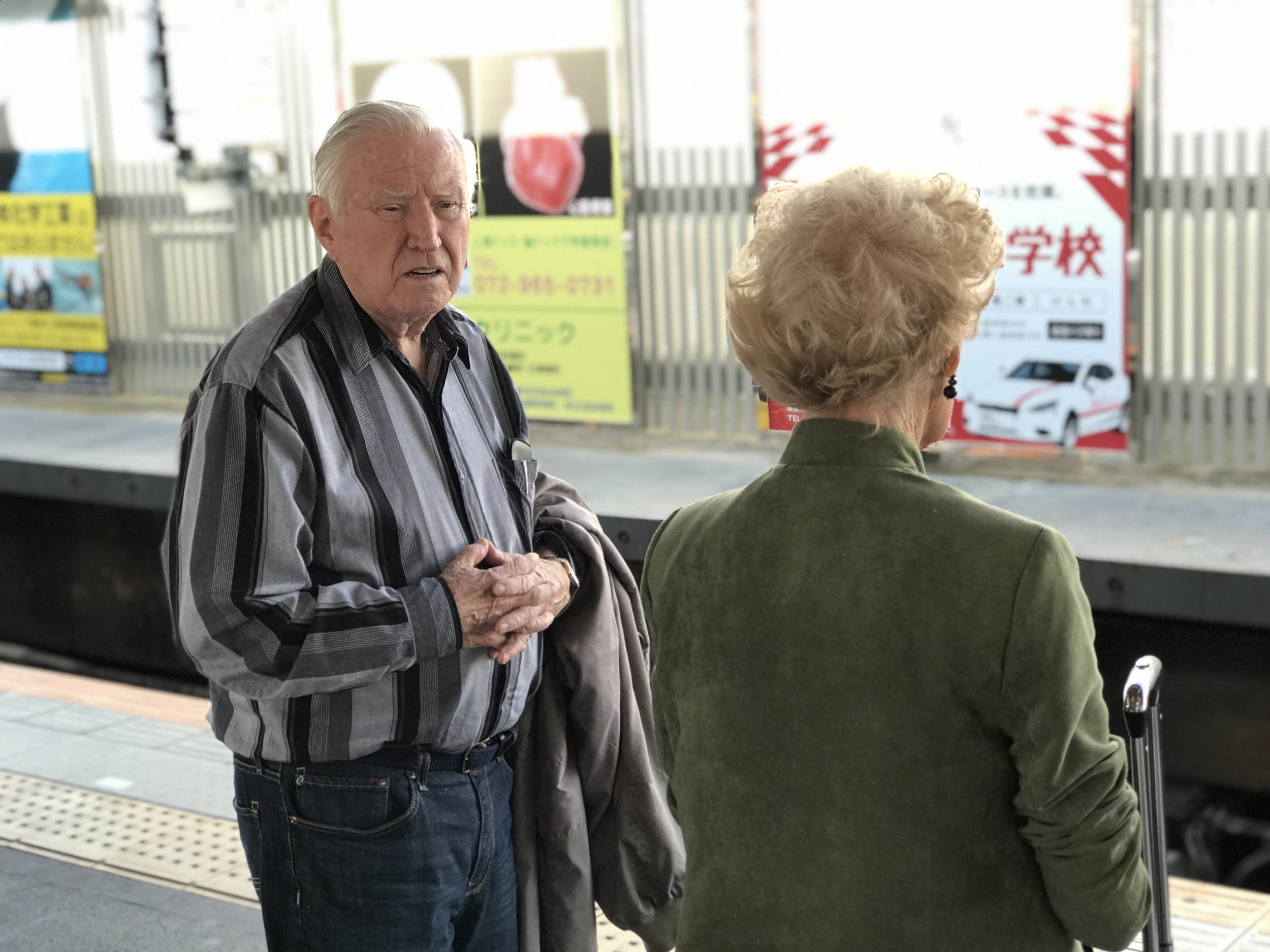 Even though they haven't lived in Japan for about 15 years, they still have a very solid grasp of the train system. Japanese trains are clean and ALWAYS on time. They famously apologize if they are even a minute late.
Lunch with one of the Next Towns pastors! They were so welcoming to April and I. Many of them have invited us to come speak at their churches!
Lots of memories and laughs being shared between the Aldersons and those they worked with for more than 40 years.
This family represents 3 generations of ministers working in Osaka! Doing an amazing work! I had a good time sharing with the youngest one, who speaks English. We look forward to working together in the future.
Inside of their church. A mega church for Japan.
A sample of the food we ate in Japan. They love the American diner style of food. They also have ice! (No ice in China)
Fellowship, food, fun. Repeat.
Japan has a great coffee culture. Their iced coffee is especially refined.
Denny's is yuuge in Japan
I love Tokui Sensei (Sensei = Pastor). He went to Bible College in Portland, speaks English and really has a great heart. He's working in the same city we'll be working in. He's said he'll gladly help us with anything we need. I'm sure we'll be making some middle of the night calls to him!
This image encapsulates what we are all called to do. Our job is to simply point people to God's Word. I can't express how affecting it was to see Archie continue to do what he's done for the last 50 years. May all of our lives point to God's Word.
The Aldersons enjoying a Sunday morning at one of their church plants. So thankful that they introduced us and endorsed us in front of so many Japanese churches. I've known them my whole life, but it was truly a privilege to walk in their footsteps for several weeks. They're the real deal.
SO thankful for Hino Sensei for helping us with a necessary step to get our visa for Japan. While any American can go to Japan for up to 3 months, this visa will allow us to stay for up to 3 years at a time. We are currently finalizing our visa while we wait for our baby boy to be born!
Exploring a castle! There's no lack of castle exploration in Japan.
They wouldn't want to admit this, but Japan loves everything American. This includes the majesty that is PIZZA.
Hanging out at the mall with my new friend Kiyoshi!